WWDC Road Trip, June/July 2003
Part II: Yosemite
The Road South | Yosemite | The Road North
On Friday morning we packed everything back into the car. After all the WWDC sessions ended, Tim and Corwin headed back towards Seattle, and Steve and I headed towards Yosemite. The rest of the Omni crew caught their flight back to Seattle.
As we were leaving fairly late in the day, Steve and I didn't make it to Yosemite that night. But by early Saturday afternoon I was happily snapping photos of everything in sight as we roamed around Yosemite valley. On last year's trip we saw Glacier Point Road, which was still closed at the time due to snow. We didn't know anything about Glacier Point Road, but it sounded promising. After that trip we researched it a bit and realized that Glacier Point was a place we definitely wanted to hit. Since this trip was later in the year than last year's trip was, the road was open, and we hit Glacier Point Saturday evening and watched the sunset. Glacier Point provides awesome views of Half Dome and points east from a height close to Half Dome's. There is another stop just short of Glacier Point which gives an excellent view of Half Dome and points a bit more south than that afforded by Glacier Point. And a bit earlier on the road there is an impressive view of the still very granite country south and more west of Half Dome. (As I discovered later, there are short hikes off of Glacier Point Road to other breathtaking vistas, such a Taft Point.)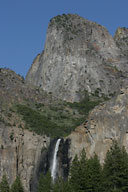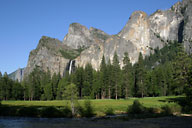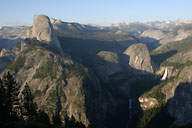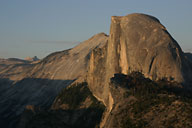 The next morning we rose early, did a pretty quick loop around the valley to get some photos in the morning light, then struck out for Nevada Fall. This is a popular, six-mile round trip hike (though we walked from Curry Village, adding a little bit to that total), with about 2000 ft elevation gain. The early part of the hike is on Mist Trail, and it lived up to its name as we made the steep climb alongside Vernal Fall, with heavy sheets of mist drenching us. The view of Vernal Fall was pretty impressive, as are the sheets of water cascading into the Emerald Pool, a calm-seeming basin just above the fall. Many people turn around here, as the hike to Vernal Fall is only three miles round trip, and there is much steep hiking beyond.
We continued up and eventually reached Nevada Fall. The views of the fall itself as we approached and from the top were less spectacular than those of Vernal Fall, due to less dramatic viewpoints. Just above the fall is a very peaceful scene of a shallow basin, with granite hills around, and we rested here a while before heading back, this time on the John Muir trail on the south side of the Merced River. For a while this was a calm trail through the woods with no view until it broke into the open, passing along a long, steep face, affording magnificent views back at Nevada Fall and the rock face around it. We reached the end of the trail around the same time as a group that had hiked all the way up Half Dome (that trail continues beyond Nevada Fall); apparently they hadn't all realized how long that hike was and weren't completely prepared for it, and one of them had been forced to make most of the hike with a twisted ankle. (I would love to do the hike to Half Dome some time, but given all the time I spend taking photos, and how slowly I hike, I would be hard-pressed to finish it in a day.) By the time we reached Curry Village again, Half Dome was dramatically lit by the late afternoon sun.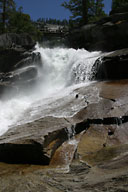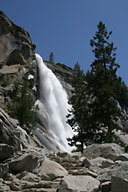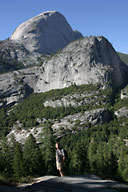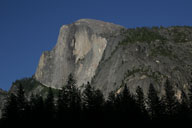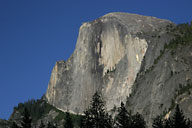 Monday morning we rose early again, and decided to try to extend our Yosemite visit. Our original reservations were for two nights, but fortunately we were able to extend for a third night. (I got the impression that it's not normally very difficult to get a tent cabin at the last minute during the week. On weekends, you can forget about it - they are booked well in advance.)
Having dealt with that, we headed out of the valley, south on Wawona Road to the Mariposa Grove of giant Sequoia trees. This grove is just inside the south entrance to Yosemite National Park, and is a popular destination. Parking was full, forcing us to turn around and retrace our route as far as the Wawona Hotel. At a bus stop on the road a few hundred feet north of the hotel, we caught a shuttle bus to the grove. Once at the grove, we decided that the guided tour, where you are driven a few miles into the grove, was too expensive, and we didn't really feel up to walking that much, so we just wandered around the first part of the grove. While these trees are indeed incredibly massive, and I found an old trunk very impressive, I was rather jaded from the spectacular granite scenery back in the valley.
Once we had had our fill of the grove, we caught the bus back to Wawona, where we spent a little while exploring and having our picnic lunch at the Pioneer Yosemite History Center. Here they have gathered buildings originally scattered around the Yosemite area in the late 1800's and early 1900's, as well as some of the stagecoaches that brought visitors back in the day. At this point I decided I was too short on sleep to drive back right away, so Steve was forced to just hang out while I tried to snooze a bit. Fortunately, a short break revived me, and we headed back to the valley. On our return we went to Glacier Point again, catching some of the views in mid-afternoon.
Then on to Bridal Veil Fall, which is a short stroll from the parking area right as our road merged with the valley loop road. By the time we returned to Curry Village, Half Dome was again basking in dramatic late-afternoon light.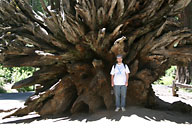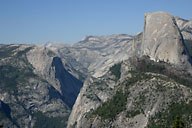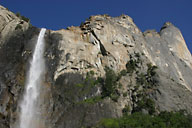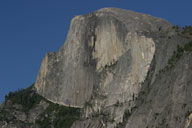 Tuesday morning we rose early as usual, packed up the car, and headed out of the valley, stopping so I could get photos of Yosemite Falls from the view point near Yosemite Chapel. Included below is a photo of our tent cabin, giving an idea of what the cabins are like (some are larger), as well as a photo of one of the bathrooms, where the bear-proof storage lockers are. (No food allowed in your car or your tent overnight.) I highly recommend checking in early and making sure (if possible) that your tent isn't too close to a bathroom (like those in the photo below) - the bathroom gets traffic at all hours, can be loud, and is surrounded by gravel (unlike most areas), which makes it especially noisy as people wander right by your tent at all hours of the night. Fortunately, we weren't too close, but I feel sorry for those who were. (Not that our tent was without problems - we had noisy neighbors I think every night. Especially the first night, I found it impossible to sleep until I reported them to the office and security came by and got them to quieten down. Definitely an issue to be aware of when deciding whether or not to stay in a tent cabin.) Also, it gets cold at night - the beds seem to often come with a single blanket each, which is not enough. Bring your own blanket or sleeping bag, or see if you can get a second blanket from the office. I like the tent cabins because actual camping requires bringing more equipment and we were already loaded for our road trip, and because most other options in the valley are very expensive (even the tent cabins are around $60 a night, which I don't begrudge unless I have noisy neighbors, but I would feel pretty bad about it if I were stuck in a tent right beside the bathrooms).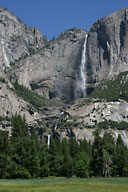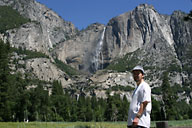 The Road South | Yosemite | The Road North