Green River, October 4, 2003
Cheryl and I went to the Green River Gorge on the basis of promising descriptions in a book of short hikes. Unfortunately, the book was outdated, and we weren't able to do the hike we wanted (the hike down from by the Green River Gorge Bridge, controlled by the now-closed Green River Gorge Resort) because access was closed off. There were still nice views from the bridge, at least.
So we explored the area a bit and ended up at Flaming Geyser State Park, which is a fairly cool park, even if we weren't able to find any flaming geysers. What we were able to find was salmon - there were loads of them heading upstream or spawning there. I didn't get many good photos because I always forget that I have a polarizing filter (for one of my lenses), but it was very cool, trust me.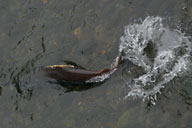 ---
andrew abernathy
andrew+owp@omnigroup.com