Brian and I went down to Santa Clara to man an exhibit booth for Omni at the O'Reilly Mac OS X conference, and to accept the first place award in the third round (U.S. category) of O'Reilly's Mac OS X Innovators contest, for OmniOutliner. We were actually only at the conference for two days - Oct. 28 and 29 - because of project pressures, but we decided to fly down early and visit Yosemite, taking vacation on the Monday. I jump at any opportunity to visit Yosemite, and Brian had never previously visited Yosemite.
We caught a (very) early flight to San Francisco on Saturday, in order to get to Yosemite before dark that day. We managed a few quick views before it got dark, mostly as we drove into the park. We noted what time sunset was so that we could make sure to be at Glacier Point to catch sunset the next evening. It was hot during the day, but very cold at night, and we were staying in a tent in Curry Village - we had taken extra blankets but were still a bit uncomfortable.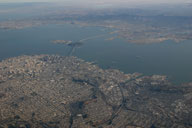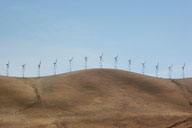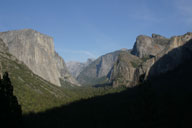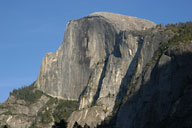 Sunday morning we attempted to hit the grocery store in Curry Village, only to find that we were early because Daylight Savings Time had ended overnight and we had neglected to adjust our clocks accordingly. So we ate breakfast at a nearby table while waiting for the store to open, and made fun of all the other people who made the same mistake we did.
After breakfast and checking out of our tent (we had a separate reservation for the next night because we were able to get a heated tent the second night), we drove around the valley taking photos, then after lunch we drove up Glacier Point Road to the Taft Point trailhead and hiked out to Taft Point. The hike is not very long - just over a mile - and is not very difficult, although part of it is fairly steep down, meaning fairly steep back up on the return. Taft Point itself was quite an experience - spectacular views of parts of the valley, including El Capitan, and very steep and high drop-offs all around. We lay down on our bellies and crawled to the edge to take photos - I wouldn't trust myself to keep my balance standing close to the edge. Eventually we headed back to the car in order to continue on to Glacier Point for sunset. We only just made it in time (and certainly missed some good photo ops) because we had neglected to take into account that since the clocks had changed, sunset was in effect an hour earlier than the previous evening.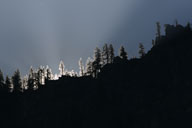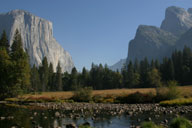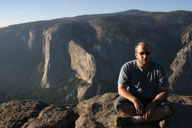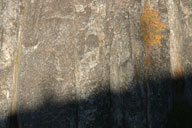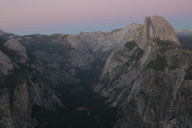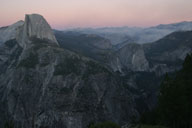 On Monday we drove up Tioga Pass road to Olmstead Point and took some photos back towards Yosemite and Half Dome from the west, then on a little ways past Tenaya Lake, before turning around and heading back to the Bay area.