Sumatanga is a camp and conference center in Alabama run by the United Methodist Church. I was a camp counselor at eleven elementary camps at Sumatanga: 1984 (camp V), 1985 (camps V and VI), 1986 (camps V and VI), 1987 (camps I, II and V), 1988 (camps I and II) and 1991 (dunno which camp; possibly VI). I also came and visited Friday night/Saturday morning of other camps one or two years - the price the staff paid for the loan of a copy machine. :-) I met a lot of cool kids (from 12 to 19 years ago - I guess none of them are exactly kids anymore), and made a lot of great friends from the other counselors, directors and camp staff. Being a counselor was a HUGELY rewarding (and tiring!) experience.
I'd enjoy hearing from anyone from camp, especially if you owe me money. (Or if you smeared my belongings with toothpaste - you think you got away with that, but I'm patient.) You can email me here. I have some photos from camps in 1986, 1987 and 1991, and I have camp directories from every week I was there (although not all the names can be made out on these fading copies). I'd love to get other photos from when I was at camp, especially for those camps where I didn't get any photos of my own. Also, if anyone wants to go climb the hill next time I'm in town, I'm up for it!
I've listed below most of the campers in my groups (a few years I can't tell from the directories) and my co-counselors, as well as some of the staff and various other counselors, so that anyone googling for themselves might run across this; this list is not complete yet, but I'll get back to it soon. Also, I'll try to put up some more photographs before too long.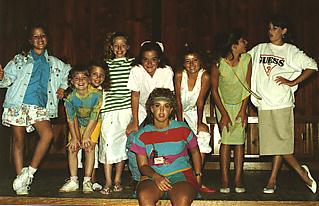 Partial list of campers, counselors and staff I went to camp with: Kim Amberson, Janna Barrett, Bonnie Barrett, Jake Barrett, Buzz Barrett (I promise, the only reason we snuck out was to get some ice), Sharon Glenn (I have a good photo of you taking a photo of me), Jennifer Shaddix, Scott Minter, Chad Minter, Jerome Washington (I have some photos of you guys in Auburn, too), Billy Reaves, Melinda Watts (Melinda Reaves), Earl Freeman, Beth Golson (Beth McGlaughn), Danny Jones, Karin Gordon, Angela Green, Melissa Burke, Christopher Williams, Casey Veal, Clay Arnold, Jason Blake, Chrystal/Christy Prestridge, Lindy Rhyne, Allison Cone, Robin Ingram, Lesli Harbin, Katie Veal, Ben Larkin (how could you not come back the next year???), Debra Welsh, Chip Rains, Deana Mixon, Susan Ham, Paige Singleton, Michelle Phillips (I can't believe you talked to Chris and didn't leave any contact info!), Kelly Turner, Alan Arrington, Timon Brown, Nick Cantrell, Rebecca Hood, Carrie Marbut, Christy Marbut, Brad Naile, Christopher Reynolds, Kristin Thompson, Mark White, Kristan Capps, Jessica Laney, John Moseley, Tynley Formby, Jeff Lenard (bet you can't jump to that rock), Tiina Kallianaki, Elisa Gilman, Joy Muse (Joy Brown; I'm gonna sue over this photo), Marc Lemay, Leigh Burrage, Leah Dobbs, Vicki Cannon (Vicki Webb), Meredith Wooley, Juliana Gray (Juliana Vice), Melony Cook (Melony Ford [good group photo, huh?]), Monica Barrios, Grady Lacher (oh yeah, you're gonna pay to suppress this photo), Leslie Hinds, Traci Bell, Tina McElroy, Leah London, Andy Israel, Scott Kilgore, Riley Roby, Courtney Tomlin, Holly Weaver, Amy Witter, Amy Woodard, Jennifer Burns, Chrissie Coffey, Kristen Friday, Mary Helen Gordon, Virginia Holbrook, Michelle Moore, Dawn Connolly, Chuck Connolly, Ashley Cox, Melanie Dobbs, Lori Haaber, Tara Raiden, Lesley Todd, Jeremy Beason, Eric Laney, Jason Long, Brian Scott, Elenor Buck, Gina Harrell, Sissy Hembree, Jehan Hicks, Cheri Honey, Diane Kopecky, Kelly Owens, Erin Skinner, Gina Marie Harden, Dawn Hassell, Ashley Holmes, Rachel Marshall, Jenny Murphy, Elizabeth Smith, Cheri Speliades, Amy Tingle, Michael Born, Julie Bryant, Kendrick Carlisle, Andra Golden, Andi Gray, Justin Grimes, Ashley Hampton, Chris Harris, Matt Walker, Jeremy West, Austin Williams, Susan Russell, Elisabeth Lewis, Ashley Toland, Lisa Saxon, Tyler Brooks, Daniel Sevedge, Andy Johnson, Luke Bentley, Kris Wadkins, Kelly Johnson, Amanda Koch, Jenny Larkin, Christy Nivens, Michelle Williams, Walter Jones, Amy Ferguson, Dawn Bachmann, Kim Peck, Chris Abernathy (no, _I_ was the one in college!).

February 22, 2004
Andrew Abernathy
andrew+awp@sumatanga.andrewabernathy.com